It seems the Parc des Princes cannot stop producing bad eggs.
Earlier this month, highly-rated young defender Marquinhos became the latest in a string of Paris Saint-Germain youth prospects to complain about their playing time. In context, the act is hardly outrageous. Manager Laurent Blanc opted, in a low-priority cup game, to field fellow youth prospect Presnel Kimpembe in place of David Luiz or Thiago Silva. Instead of Marquinhos alongside him, however, the Paris boss preferred to give Thiago Motta and Benjamin Stambouli the role. The former A.S. Roma man would get a cameo towards the end of the game, in an oft-maligned defensive midfield position.
PSG's Marquinhos to Journal du Dimanche: "I will continue to work for my place (starter), but true there will come a time when I want more."

— Jonathan Johnson (@Jon_LeGossip) January 3, 2016
It is easy to blame Blanc for mismanagement. Le President is a notorious disciplinarian, a self-professed admirer of Sir Alex Ferguson. He takes a hardline stance against anyone attempting to undermine him, fining and excluding Rabiot for showing up late to a cup final and then embarassing him in a press conference regarding his comments about a potential loan move. Given that Marquinhos gave his troublesome interview on the same day as the cup tie against Wasquehal, it seems possible that Blanc could have done this as a disciplinary measure.
So why do snubbed young players sabotage themselves, if the manager's retribution clearly comes swiftly?
A look at the search trends for recent PSG rabble-rousers Rabiot and Marquinhos clearly shows correlation with transfer season, first of all. Yet Marquinhos' recent comments have propelled him high into the rankings in January. Likewise, Adrien Rabiot's contract stalemate kicked off in August 2014, leaving many European teams—particularly London clubs Tottenham Hotspur and Arsenal—eager to snap up the unsettled Frenchman. Another small jump came in winter 2015 as Rabiot's loan comments sparked more doubts about his future in the French capital. The fans and media respond to these rumors even more eagerly when they are made public—although it may be difficult to see this in the context of PSG from a non-Francophone perspective. Looking across the channel, though, one finds similar trends in the cases of Saido Berahino and Raheem Sterling, both of whom have worked with notoriously loose-lipped agent Aidy Ward. Sterling's numbers predictably rise as he takes on interviews stating his desire to leave Liverpool, and Berahino sees bigger numbers as he publicly feuds with his manager over not being allowed to leave for Spurs.
Simply put, Rabiot and Marquinhos see an issue—the former because of an unfortunate upbringing and the draconian influence of his mother Veronique, the latter because he could arguably be starting anywhere else—and they want to force the private, quiet Blanc to answer it. Media pressure can often force the former Bordeaux manager to divulge serious internal news. In Rabiot's case, though, public opinion remains on the side of Le President. With Marquinhos, many are frustrated that the youngster has not been afforded more chances.
The opinions of the fans toward virtually the same disciplinary measure (theoretically, at least) are split depending on the player, even though the ideal has always been to bleed through more youth players. Complicating the situation further is the spectre of Kingsley Coman hanging over the club. The talented ex-Parisian now enjoys playtime and the occasional spotlight at Bayern Munich. He has recently turned biting criticism back on Paris,  particularly singling out Zlatan Ibrahimovic. The fans and owners alike want PSG legitimized in the European elite—nothing harms that as much as stories like Coman's, and the repeated attempts to sweep Rabiot's behavior under the rug points to an intense desire to not have a repeat situation. Yet there is no small degree of hypocrisy here—Paris must bleed through youth, but Paris cannot ever dare to lose.
Is it fair to say, then, that the ownership and the academy are irreconcilably at odds?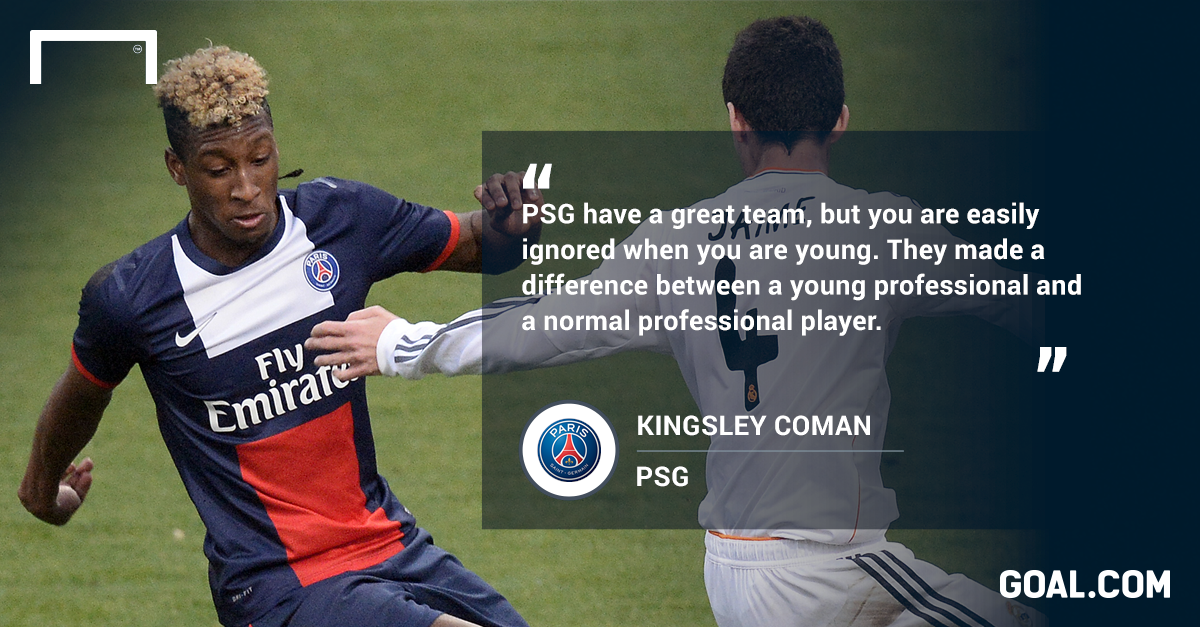 Well, not quite. It is fair to say that the history of the club before the takeover in 2011 (if not outright washed away in the style of much-maligned Red Bull takeovers) has hardly been pushed to the forefront. PSG suffered in the short-term for the incredibly rapid injection of money, and subsequent shuffling of personnel that it went through at the beginning of Nasser Al-Khelaifi's reign as chairman. Of the squad in 2010-11, the last before Qatar, not a single first-team player remains registered for the first team this season. Beloved former captain Mamadou Sakho may have parted amicably, but that statistic is quite incredible. Of the youth products, only Jean-Christophe Bahebeck and Alphonse Areola have managed to hold onto their place, and of course since Sakho, not a single youth player has regularly made the starting XI.
At least on paper, that points to a serious dearth of talent left standing in the Parisian academy —but the simple truth is that they have been replaced. The Camp Ooredoo (formerly Camp des Loges), PSG's training facility, is sponsored wholly by Qatar in a deal worth around €10 million. Much of that money has been channeled back into the academy, with the ground slated to be moved out of Saint-Germain-en-Laye. The new academy would cost upwards of €50 million and the long-term relocation could potentially reach a cost of €300 million. Virtually all of this comes from chairman Nasser Al-Khelaifi's pocket, and with good reason. The hastily-constructed side handed to Carlo Ancelotti in 2011 is now waning, its rejects far removed and its stars beginning to fade. Half a decade on from the Qatari takeover, the discarded prospects have only increased in number.
Per the International Centre for Sports Studies (CIES) in 2014, Paris is ranked fifth in Europe in number of academy-produced players that have made first-team appearances for a club across the continent's top 5 leagues. In the top 3 are the typical academies – Barcelona in first with its famous La Masia, and Real Madrid and Manchester United not far behind. In fourth is Olympique Lyonnais, another French side, which serves as a useful foil for this discussion.
The French Ligue 1 has the highest ratio of home-grown first team players among the top 5 leagues in Europe. This statistic is supported by Lyon, with 15 of its 33 top-flight produced players still at the club and featuring as of 2014. Paris Saint-Germain, however, is tied for third-lowest in terms of youth products retained with 5—and that number will have only gone down with Zoumana Camara's retirement and the departure of the ever-quiet Clement Chantome. Elevating them to fifth place in the rankings are a whopping 22 players abroad, most of them plying their trade at a fellow Ligue 1 side, just below the grade and forever consigned to being an asterisk on a commentator's team sheet in case they score on the club that never gave them a chance.
In fairness, the club has redefined success. Of that there can be no question. The league title is virtually a given, and even though both domestic cups are little more than formalities, those trophies help ease the blow of a potential lost UEFA Champions League match.
Stambouli won the Ligue 1 with Montpellier in 2012—he is a perfectly serviceable French midfielder, and yet he looks behind the pace of the rest of the team when he starts. Since cleanly winning all 4 of France's domestic trophies in 2015, "Ligue 1 tier" is a step below Les Parisiens. This impossibly high standard is what keeps Presnel Kimpembe, who played a fine 90 minutes of league football against AS Saint-Etienne, consistently out of the side.
Even the golden boy, 18-year-old Jean-Kevin Augustin, has had many admirers turn briefly against him after a poor showing against Wasquehal. The pressure is impossible for an emerging talent, even one with such a tried record of professionalism. Likewise even though he may frustrate fans, Rabiot is Marco Verratti's favorite young player for a reason. He has the talent and mindset to maintain a genuine place in the squad, despite constant friction between himself and the club. All of this contributes to Nasser Al-Khelaifi's intense desire to elevate the academy: the French standard is no longer the Parisian standard.
At the time of writing, Paris is top of the table with not a single defeat. They remain the last undefeated club in any of Europe's top 5 flights. Rabiot and Augustin have survived their fellow academy graduates because they can cope with the immense pressure and scrutiny that comes with even a peripheral role in Paris. The Parc des Princes is notoriously unforgiving, and lacks the culture of youth development that the likes of Barcelona and Manchester United enjoy. They must constantly shake off disappointments, and tread carefully enough that they do not end up at fault for a loss that ends the invincible run.