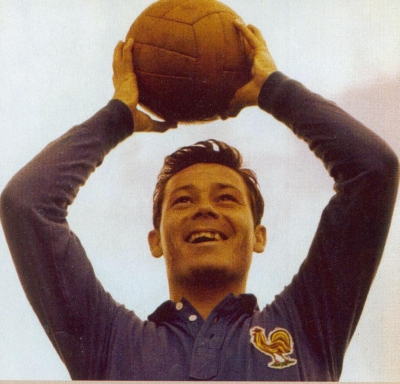 Despite the superstars that have graced the World Cup over the decades, there is one record that may never be beaten by any player ever again. Only 3 times has a player scored double figures in a World Cup tournament, once in 1954, Sandor Kocsis scored 11, in 1970 the legendary Gerd Muller scored 10 goals. Yet one man surpassed both of these incredible efforts when he scored 13 goals at the 1958 World Cup, French legend, Just Fontaine.
It often astounds me that whenever lists of great strikers appear, Fontaine is rarely on the list. It's not like the Swedish World Cup was a flash in the pan for him. He scored goals wherever he played throughout his entire career. Domestically or Internationally, Fontaine found the back of the net with unfailing regularity. It would seem yet another wonderful player is often overlooked in the modern era simply because people don't look hard enough.
In those far away days before football became the global sport, the European Cup and European Championships were in their infancy and with only 16 teams qualifying for a World Cup, many great players missed the opportunity to play regularly on the main stage. His international career was only 7 years in total from 1953 to 1960, he missed out on 1954 through a lack of experience and was struggling with injuries by the time Chile held the competition in 1962.
That shouldn't take anything away from his achievements and in normal circumstances scoring 13 goals in a World Cup should see you lift the trophy but for the greater strength of one team: Brazil. Yet we're getting ahead of ourselves, before we've even begun. Fontaine was born in Morocco in 1933, or French Morocco as it was known then. At 17 it was his move to Casablanca that catapulted him towards history as he scored for fun in the league. French league sides fell over themselves to scout him but it was Nice that managed to get his signature first. Aged just 20, Just moved to France and his career went through the roof.
In 3 seasons at Nice, he scored 44 league goals in just 69 matches and attracted the attention of Stade Reims, who were the giants of French football in the 1950's and 60's. Reims are a team that we have also lost sight of, struggling in the French Third Division these days but incredibly reached the European Cup final twice, in the debut tournament of 1955-56 and 1958-59. The Olympic Lyon of the day, Fontaine was brought in to replace another French legend, Real Madrid bound Raymond Kopa and hit 30 goals in his debut season.
Ironically, it was the relationship at international level between Fontaine and Kopa that would prove so decisive in the 1958 World Cup as they combined so beautifully that Fontaine and Kopa seemed to have a psychic link. In Sweden, the bond was at it's dizzying peak and it was almost rewarded with the greatest honour in the game. As strike partnership go, it's certainly up there in post-war club and international football.
It is odd, especially in the UK that Fontaine isn't more widely known as the 1958 World Cup is a watermark in British football. It was the only tournament that England, Scotland, Northern Ireland and Wales all qualified for and some should remember him more than others. In 1954, the French side had failed to qualify from their group so hopes were high for a more positive tournament in Scandinavia. The group was tough but not impossible and they had to play against Yugoslavia, Scotland and Paraguay.
The first game saw them face Paraguay and by half time the match was tied at 2-2 with Fontaine having scored both of Les Blues goals. 45 minutes later, he was walking off the field with the match ball after scoring his third and France's 5th as Raymond Kopa destroyed the Paraguayans resistance in a 7-3 mauling.
Next up came the dangerous Yugoslavian side and they were right to be wary. A tense and physically bruising game saw Kopa and Fontaine on the receiving end of some brutal treatment in a 3-2 defeat, which was lost at the death. Yet Just added another two goals to his tally and Scotland were dispatched in the final group game 2-1, with another goal for Fontaine taking his total to 6 goals in the first 3 games. The French were through to the Quarter-Finals and faced another British side, Northern Ireland.
The Irish had impressively finished 2nd  in a tough group and had a goal getting striker of their own, AstonVilla legend Peter McParland who had scored 5 goals in the group. Fontiane and the French were just too good and routed them 4-0, our hero scoring another 2 goals to take them in to the Semi-finals to face the favourites, Brazil.
Despite how impressive France had been so far, they couldn't hold a candle to the Brazilians. With Vava and Garrincha running rings around them and a young striker by the name of Pele scoring a hatrick, even Just Fontaine couldn't keep them in it. Brazil were too good and despite recovering from going a goal down after 2 minutes, thanks to his 9th goal of the competiton, Fontaine and France faced a task too far. Brazil ran away with the game, winning 5-2 and the only consolation for them was the opportunity to play for 3rd place.
To say the next game had a bit of needle would be an understatement as they were to face the defending champions, West Germany. The reasons for the animosity were still fresh in the minds of the French and as if possessed, they ripped the legendary German defensive unit to shreds. Kopa seemingly single handly passing them to death at every opprtunity and Fontaine was at his lethal best. 4 times he struck the ball pase the German keeper, Kwiatkowski as the French ran them ragged in a 6-3 victory.
So, 6 games, 13 goals and scored in all 6 matches the French played. Two hat tricks and the French had arrived on the international stage again. Fontaine returned to scoring goals for fun in Ligue 1 and in 1959 was rejoined at club level by Raymond Kopa. Unfortunately for him and Reims, they only managed one season together until a knee injury curtailed Fontaine's career at just 29 years of age. Who could have said where he would have ended up rather than limp through his last two seasons.
He could only manage 14 games and 6 goals in his final two years before injury robbed football of one of its most underated strikers. He tried his hand at managing to no great success apart from a spell as the Moroccan coach, leading them to 3rd in the 1980 African Cup of Nations. Fontaine is now 76 and is a legend in France. In 2003 he was voted the Greatest French player of the last 50 years and still holds the World Cup record of the most goals in a single tournament.  Il était magnifique!