It was a very eventful week in Italy with Coppa Italia fixtures and the wild happenings of Week 20 in the Serie A. There was a dramatic 2nd half comeback (Torino v. Lecce), a return of a icon in Turin (Gigi Buffon vs. Fiorentina), the goal scoring debut of a celebrity (Beckham for Milan vs. Bologna), and the red card sending off of a Special One (Jose Mourinho vs. Sampdoria).  An eventful week in Italy is now capped off by the Serie A Team Of The Week. 
The Team Of The Week played matches and/or made headlines during the calendar week of January 19 – 25.  The winner is:
Football Club Internazionale Milano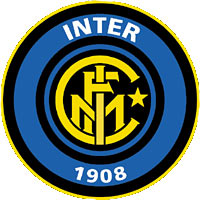 The team known as Inter and the Nerazzurri had a winning week although it wasn't the most impressive of performances but you can't look good all the time especially in the Serie A.  On Wednesday, Inter eliminated Roma in the quarters of the Coppa Italia 2-1 avenging last year's loss to Roma in the Coppa final. Adriano & Ibrahimovic scored to give Inter a place in the semis.
On Sunday, without Ibrahimovic and Jose Mourinho being red carded in the 1st half, Inter defeated a tough Sampdoria team 1-0 with a goal from Adriano in 1st half injury time.  The victory kept the Nerazzurri a top the Serie A table plus they were the only team to win every game they played this past week. 
Since everyone loves a winner, Football Club Internazionale Milano is the Serie A Team Of The Week.