It seems like only yesterday when Italia 1990 took place, probably the first World Cup that could honestly begin to claim it was a global spectacle. As if by magic, the Cameroon side that qualified for the 14th World Cup were able to explode all over the world and show people that African international football had arrived. It wasn't that previous qualifiers from Africa hadn't given a good account of themselves, Algeria in 1982 were cheated out of qualifying for the 2nd round. They'd just not been consistent throughout a tournament.
1990 changed all that almost immediately. The World Cup traditionally opened with the defending champions playing in the first game, and Italia 90 was no different. It was expected to be a turkey shoot, as Argentina faced Cameroon on June 8th in Turin. After 90 minutes, African football had come of age thanks to Omam-Biyik's 67th minute header condemned the holders to a 1-0 defeat. It was a result that made football fans the world over sit up and take notice.
Other than the win, the game featured quite possibly one of my favourite ever tackles in a game of football. Suddenly, anything was possible and Cameroon would have an adventure that almost reached fairytale proportions. It would be the story of the 1990 World Cup and especially thanks to one player it would live on in the memory long after the finals had drawn to a close. Cameroon's fantastic run was built on a foundation of pace, strength and the lethal finishing of a 38 year old journey man striker called Roger Milla.
Milla had been a striker of average talents that had plied his trade in the French First Division throughout the 1980's but by 1989 had moved the the French island of Réunion to take up a post of player coach for St.Piere. His French club career had seen him play for Monaco, St. Etienne and Bastia amongst others, but had retired from international football. The country managed to talk him back for a 3rd World Cup and he was instrumental in the achievements throughout the World Cup.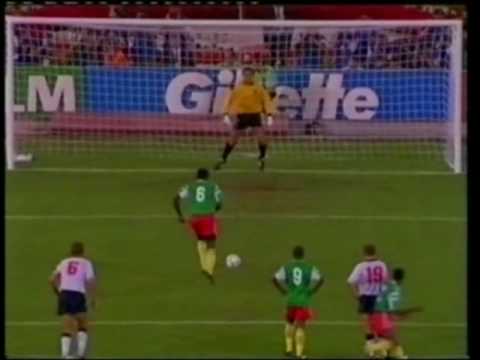 After dispatching Argentina, Cameroon beat a well fancied Romanian side 2-1, with Milla getting both goals before a final defeat came against the Soviet Union 4-0. It mattered not, they finished top of the group, even with a negative goal difference, but found Colombia in the next round. To all intents and purposes, the dream would surely run out of steam against another South American side, but after 90 minutes the games was level at 0-0. Milla had come on as a substitute and they were hanging on.
Suddenly in the second half of extra time, Milla came alive, scoring 2 goals in 2 minutes, the second one that will haunt Rene Higuita, Colombia's iconic goalkeeper for the rest of his life. He came sprinting from his goal to try and play sweeper, dallied and Milla robbed him, ran on and slotted the ball in to the empty net. 2-0, game over, the legend of the Indominatable Lions was made in those minutes. Colombia stole a late goal but to no avail, they were out and Cameroon became the first African country to make the quarter finals.
The next match will live long in my memory, mostly because of how much England struggled, despite taking the lead through David Platt. Cameroon's movement and pace had unsettled England to the point that they were 2-1 down, once again with Milla taking centre stage. Coming on as a substitute he set the first with a beautiful pass and was brought down for a penalty, which was converted to put Cameroon 2-1.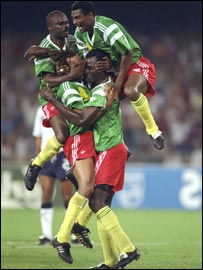 England were facing the exit but with 7 minutes remaining Gascoigne played Lineker in and a rash tackle gave a penalty away. Lineker, ever the predator, scored and in to extra time we went. It was then that the Cameroonian legs began to tire and the English pushed on for a winner. Both sides had been involved in extra-time tussles, but Cameroon seemed to be feeling the effects more. A carbon copy pass from Lineker once again invited a rash challenge and once again the result was the same.
It was an effort too much for the Lions to try and pull level and England's experience told as the clock ticked down to the final whistle. They were out, but to a man, every fan in the ground and stood and applauded the Cameroon team as they waved Italia 90 goodbye on a lap of honour. They had come so far, achieved so much and won so many admirers for the passionate way they played the game. African football grew in stature that month in 1990 and all football fans around the world should be thankful for Roger Milla and the Cameroon team that won Italia 90's hearts.