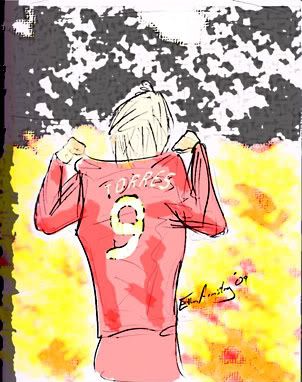 Well, Torres is back. That's about the biggest consolation I can take from the last two outings. We may have gotten the right result against Unirea, but if you didn't watch that match, trust me, the outcome doesn't reflect the awful, numbing football we sat through for most of ninety minutes. Where was the team who beat Everton with only ten men? Where was the spark that undid Spurs? We were saved by N'Gog switching on at just the right moment (he was useless up until then) and Unirea's players forgetting how to strike a ball any time they got a look at goal.
Then there was the City match. With Liverpool's troubles this season and City's rise, an away draw might not seem the worst thing ever. But Liverpool's passing was easily the worst thing ever. These are professional footballers. They've been playing this game their entire lives. How do they suddenly forget to connect with a teammate on some of the simplest missed passes I've ever seen? Your teammate is wearing a bright red shirt, and you can't find him?? I honestly think we would have been one or two up on City without Torres if we hadn't squandered our most promising attacks with repeated cheap losses of possession. It was embarrassing.
Thankfully our defense has gotten it together. This has buoyed us in our time of need. City couldn't take advantage of our woes because Pepe and the back line stayed sharp and awake and absorbed every attack. And against Unirea tonight, the clean sheet we carry into the match could prove as important as the goal. Now we only need to score one in their house and they'll need to score at least three. Thank you, Away Goal Rule. Our reinvigorated defense has kept us together while we wait for the scoring to flow once again.
So while I still don't subscribe to the two-man team theory, it is of endless comfort to see Torres back on the scene. We simply don't have another frontman who can instill boundless confidence in our team and in our supporters and boundless fear in our opponents. Even if he's not entirely back, this is the man who scored against Manchester United while injured. This is the man who's put away 12 goals already this season despite his battles with injury and absence. We can play him sparingly tonight. He can play increasing minutes against Blackburn, Wigan and Pompey and then, hopefully, he'll be back to his old self just in time for Manchester United away on March 21st. Hopefully, Vidic can get another red card trying to pull Torres down by his headband after he's blown past everybody. Tradition, right? Oh, yeah… and goals. One or two of them at Old Trafford, please, Niño.
As for the rest of the side: this isn't a tw0-man team. So I pray they can use the second leg against Unirea to remember how to pass, how to create chances and how to score. This is a pivotal time. Starting tonight, we need to find some convincing form and put away some convincing wins to advance in the Europa and to pull past City and Spurs and get some distance between us and Villa. Yossi is back. Torres is back. Steven almost looks his old self again (that early charge against Unirea, that attempt from distance against City). I'm ready to watch Liverpool switch on and fight their way back into the top four. This season isn't over yet, even if I've wanted to hide in a ditch somewhere for most of it.