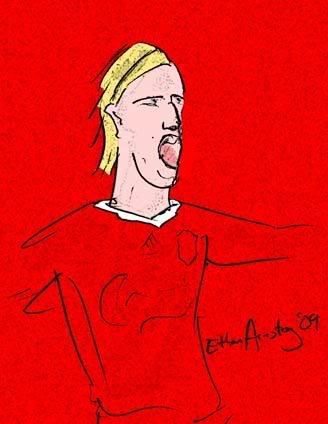 In his chapter on Brazil in The Thinking Fan's Guide to the World Cup, John Lanchester writes:
"Most football writing is about that experience, one way or another; in the overall run of writing about football, most of it is about the epiphenomenon of being a fan rather than the phenomenon of the game itself. It's strange but true. Golf writing is about playing golf; cricket writing is about cricket, and baseball writing about baseball; but most football writing is about being a fan."
As a writer, I've been thinking about how this is connected to the way I experience football as a fan. I'm thinking about the times I'm huddled around a television with fervent, anxious supporters. The experience is one of unparalleled tension. I am more in tune to my own emotions and desires. The technical points of the match are obscured by feeling. I wait and wait for that one moment. The goal. Everything else is suspense and worry. Each match we supporters are desperate beings, praying to see the goal shake the back of the net. And not just during a nil-nil nail-biter. Even with a one or two goal lead in a match where my side has dominated, I can't trust that some chain of strange events is going to undo everything. An incorrect penalty call. An own-goal. The other side suddenly remembering how to construct a counter-attack. Only when my side gets a nice four or five goal cushion can I relax and watch association football in the same way I watch, for example, most baseball and American football matches. I can then chat with friends. Discuss the match. Take my eyes away from the television at times. Use the bathroom.
Our memories of the football fan experience come from goals. A simple, obvious statement, but one that lies at the core of our fandom. We wait for goals. We pine for goals. My insides coil up like a giant spring as a match goes on without them. Then when they come we throw ourselves into a jubilant frenzy. I can't count how many times I've thrown my arms around a stranger in the pub who briefly becomes my best friend in the world just because he happens to be standing next to me in Liverpool colors when Fernando Torres works the ball home or when Steven Gerrard blasts it in from thirty yards. Even if my head ends up in his armpit and he spills his beer all over my back, that man is, in that moment, my brother and if, as we are still soaring from the goal, he asks me to be the best man in his wedding the following weekend, I will clear my schedule as soon as possible.
And it's not just goals. It's the goals that came at the perfect moment and flipped my world on its head. The first goals I think of when I think back on a season or a series of matches usually aren't even the dazzling, acrobatic feats. You'd think they would be. It should be a crazy bicycle kick or a first time volley off a thirty-yard pass. After all, we pride ourselves in our game being The Beautiful Game. We scoff at the heathens who cannot appreciate our favorite football which is much an art as it is a sport. (To twist and paraphrase a Monty Python bit about vegetarianism: "We're football fans. We're not only proud of this fact: we are smug about it.") But in the end an ugly or mundane strike that seals an important result will live on in my memory much longer than a display of devilish skill that seems to defy the laws of physics. What goal from recent memory would most Liverpool supporters offer up as their most cherished? Xabi Alonso's goal from 2005 in Instanbul is surely the biggest contender. And what was that? A blocked penalty shot and a roofed rebound. It would never come close to making the video reel of the most spectacular goals. But it is etched in the brain for most Liverpool fans as it completed our comeback after Milan scored three unanswered goals in the first half.
As a Liverpool supporter I was spoiled with the spectacular moments for the last two seasons. None of them have secured anything as grand as the Champions League trophy, but they've led to little doses of glory that have kept hope alive for the future. Starting with Steven Gerrard's 87th minute long-range free kick against Villa in the 2007-2008 League opener, it seemed like Liverpool were always pulling out last gasp brilliance to rescue points. We jumped higher for those goals. We sang louder. My desktop picture on my computer is still the Liverpool players jumping atop Yossi Benayoun after he scored the only goal in stoppage time against Fulham last season. You actually can't even see Yossi in the picture. You have to know he's there. Liverpool didn't win the season, but that goal secured three points and kept our title hopes alive at the time.
This season it's not just that Liverpool are struggling with form and results. We also haven't been blessed with many of those stupefying moments. Those goals that define a match and smack my heart up into my throat. N'Gog's against Manchester United is definitely the biggest for me so far. Beating United during such a woeful season may serve as the year's highlight. We held onto a 1-0 lead since the 65th when Torres scored, but against United this is a minuscule advantage and is far more nerve wracking than a nil all scoreline. When stoppage time came around, Liverpool supporters could only think of the recent Manchester derby when stoppage time ticked on and on until Michael Owen scored the winner for the Red Devils. But for us it was young substitute David N'Gog. As we prayed for the final whistle, he got the ball in space, ran at the imposing Edwin van der Sar, picked his moment, and coolly fired the ball into the bottom corner. A massive victory sealed and a young talent showing his stuff for the Reds.
The other, more obvious stupefying moment came more recently against Aston Villa. But I missed it. I was at the pub for that match and watched 80+  minutes of agonizing nil-nil nothingness. But I'd just started a new job. I'd shown up a little late the day before and my manager was not impressed. Scheduled at five the day of the Villa match, I left the pub early to give myself plenty of time to drive to work, find parking and have time to spare. As I was parking, a friend texted me about the Torres goal. And it had taken me no time at all to drive to the new job and find a spot. Far less than I'd anticipated. I had twenty minutes to spare. I could have stayed in the pub until the final whistle and still walked in the door early to the new job. Argh. Later I found the goal on the internet: a Villa defender went in to strip a Liverpool player of possession. The ball popped up and landed in front of an unmarked, onside Fernando Torres. El Nino ran onto it and smacked it low into the far corner. The only goal. All three points. I still got chills watching it hours after it happened (and knowing beforehand what I'd be watching). But I'm kicking myself for not staying in the pub and seeing that moment live. That essential fan experience.
So even though I've had to trade my title hopes for top four placement hopes and my Champions League ambitions for Europa Cup ambitions, what I'm really hoping for is more of those stupefying moments. They may not instill the same assurances of my team's form as a five-nil trouncing. And they may cause extra stress since they often come so late in a tight match, but in the end they are worth it. That incomparable sensation of explosive glory. But they do give you hope to the very end of those nail-biters. You don't give up on the points until the final whistle blows, because you've seen your side pull it out in the end again and again. There's something special in that. But it takes the players believing it too. You can do it, Liverpool. I know you can. The whistle hasn't blown yet and their defense is looking tired. Get in there and make it count, boys. Make it count.