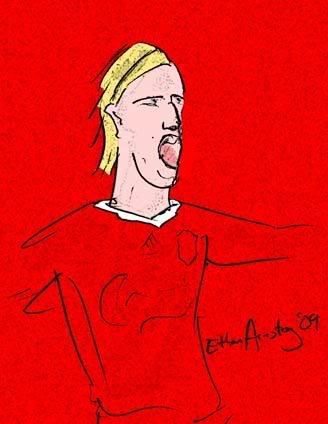 Or the title I prefer:
Fan Diary #9: The Goal Fest; Torres Leaves Me Speechless; Poor Defending, An Infant Scouse-American; Was It A Cross Or A Shot?; Niall's Wife; Meryl Streep; Has Ryan Babel Finally Embraced Being Super-Sub; And Are You Drunk Or Did You Forget Which Side Jozy Altidore Plays For?
A tight match might make for better viewing in a sport where suspense is intrinsic to good spectating. Late winners and daring comebacks are a recipe for far more classic matches than a good spanking. But then again, there's a deep satisfaction to those matches where the goals just keep on coming.
Even though the dramatic tension evaporated Saturday when Fernando Torres sent his third goal through the defender's legs and past the seemingly cast-iron goalkeeper, I was still married to the television screen for the rest of the match (a.k.a. most of the second half).
If recent history has told us anything, Hull is just the sort of club to strip Liverpool of precious points and with our shoddy defending Saturday – which allowed Hull's 15th minute equalizer and caused me countless other near-heart-attacks. When the score became one-one, I feared another ugly draw, despite there being plenty of time left and despite our attackers looking hungry and decisive.
Then Torres hit his second. If his first was clever (when he tricked his way past a defender and slotted the ball into the far side of the net) his second was genius (and his third would later be magical). On 28 minutes Benayoun found Torres on the edge of the area. The keeper came at Torres, surely thinking he'd scoop up the ball while Torres' mind was still on the defender he'd just turned. Nope. Torres dinked the ball around Hull's number one and casually flicked it into the open net. One of those moments that takes unfathomable skill and yet Torres made it look easier than parallel parking a compact car in a spot left open by a tank.
Two-one should feel comfortable, but so should have one-nil against a sophomore side at Anfield, but Hull had already gotten past us once when Skrtel's desperate attempt to clear saw the ball fall in Geovanni's unmarked lap, and as we kept giving away corners and free kicks (and as every goal scored against us this season before Geovanni's equalizer has come from a dead ball) there was no rest for nervous Liverpool supporters who have seen too many points dropped to sides like Hull despite promising starts.
My friend Miranda had brought in her infant Sasha. Wrapped in every piece of LFC babywear you could imagine, little Sasha remained happy and buoyant in a pub where the only rival to the blaring sound system was the blaring roomful of supporters. Three different guys apologized to Miranda for loudly dropping f-bombs in front of the baby. "S'alright," said Miranda from Merseyside. "Knowing me, her first word will probably be 'bollocks'."
I bring up Sasha because my favorite joke of the day became shielding the baby's eyes every time Liverpool timidly defended a corner kick. Like: Some Scenes May Not Be Appropriate For Younger Viewers. Violence and swearing: no problem. Liverpool defending a set piece: whoa! That could scar young eyes for life!
But somehow we didn't fall to a single set piece despite continually conceding them.
And shortly after the second half began, Torres found the net a third time. For all his prolificness, Fernando Torres hasn't scored too many hat tricks. Part of it is, like all the best players, he knows when to be selfless. He'd happily lay the ball off to Dirk or Yossi or Riera if that player had a better look at goal. And I swear he'd rather feed Steven Gerrard above everybody else (and vice versa) – their endless love for sharing with each other makes me convinced they are twin brothers separated at birth… despite the age difference… and the fact they look nothing alike… and they come from different countries….
The other part of it is Benitez usually takes Torres off after he's scored a couple because that often means Liverpool have enough of a lead after 60 minutes and our star striker can be rested and David N'Gog can come on and do a little growing.
But Torres' first two goals came so quickly against Hull, there was plenty of time to squeeze in a third, and after that came he was still looking goal-famished. I really thought this might be the outing where Torres reached that Fowler-esque five-goals-in-one-match.
But a hat trick was enough, especially after Steven Gerrard fired home a bomb from wide left. "That was meant to be a cross!" insisted one friend.
"Who cares!" insisted me.
Gerrard fired it at the far post with all the pace of a space shuttle plunging back into the atmosphere. (This raises the question: does the goal still count if the ball burns up upon re-entry?) The ball ricocheted in off the top corner. It was the beautiful audacity of a Steven Gerrard we haven't seen in a while (probably because he's been playing further up until the last couple of fixtures). I'm talking about that crazy shot from distance that transports one back to his stoppage-time goal in the 2006 FA Cup or to his shocker against Olympiakos in 2005 or any other legendary jaw-dropper-from-distance – it feels like the past, present and future all wrapped up in one exploding package. Too bad Fernando Torres had already rendered me speechless. By the time Gerrard made his heart-stopping shot I had nothing to say. My jaw hung open and my brain begged for confirmation from my eyes: we didn't just imagine that did we? This is really happening, right?
And then there was Babel. At halftime I'd had the discussion with my friend Steve (and we'll have this discussion three to seven more times this season depending on how long Liverpool stays alive in the domestic cups)  where I say, "We should be playing Ryan Babel as a striker in the FA and the Carling Cups in case Torres gets injured and we need him up front. Y'know: conditioning." And Steve says, "It'll never happen. You say that every year." Anyway that's the short version.
So how validated did I feel when consummate assister (assistor? assistant? feeder? supplier!) Dirk Kuyt put a low ball straight across the box and Ryan Babel instinctively, reflexively, cheekily turned it into the net! No time to think. Just pure strikage from Babel. You could see how much it meant to him when he jumped on Kuyt and nearly started dry-humping his countryman's chest. I get the feeling he's ready to stop pouting about not being a regular starter and really become the heir apparent to David Fairclough.
And Riera's deflected shot was a damn fine one as well. Riera and Babel: two players who really needed a boost. They each came to Liverpool showing loads of potential but have fallen off the radar lately. Riera's lacked that spark he had in the first few months of last season. Babel's eternally been that player we wait to see fully blossom. Hopefully their goals inspire them to play out of their skin in the upcoming months.
But in the end: 6-1. A brilliant outing. Torres is on fire going into the Fiorentina match tomorrow and, more importantly, going into the Petr Cechless (red card? seriously? yes: seriously) Chelsea match next weekend and despite some defensive worries, we've proven, once we get the momentum up our big problems – the ones brought on largely by Alonso's departure and Carra's aging – can be held at bay.
Post-script:
Okay, so the only reason Niall's wife and Meryl Streep made it into the subtitle was because of that stout-infused post-match chat when I pulled out a notebook to jot down some thoughts and my friends Niall and Tim started suggesting how Ethan should begin Fan Diary #9.
"Title it: This One's For Meghan!" declared Niall. Tim and I both looked at him blankly, waiting for him to explain how his wife Meghan, who wasn't at the pub watching the match with us, fit into an article about Liverpool's 6-1 victory over Hull City. "Well," said Niall."That's what I screamed when Torres got the hat trick: 'That One's For Meghan!" He nodded, smirking, as if it should be clear now.
"But nobody's going to know who Meghan is except for us," I said.
"Are you two having another beer?" asked Tim, holding his hand up as the bartender breezed toward us.
"Naw," said Niall in his patented joking-around voice. "We're going to the mooovies. We're gonna catch Julie and Julia."
"Ooh," cried Tim. "That's a great film, you'll love it!"
"I was joking," said Niall.
"I know, I know," said Tim. "But seriously Meryl Streep is amazing in it. It was like… it was like as good as Torres' hat trick – only with acting!"
Niall punches me on the shoulder, "That's how you should start the article: 'Torres is the Meryl Streep of football…"
Tim (who's Irish): "No: you should write about the Americans in the pub who were crying for Altidore to score! Wankers!"
(Two of our friends had separately stated they wanted to see a goal from Jozy Altidore – the American international who plays for Hull – after he was subbed on late in the match. I scolded them for essentially rooting against Liverpool. "But it's six-one!" cried my friend Jay.
"Goal differential!" we shouted back.)
"Naw," I told Tim. "I've already written about that kind of thing."
The beers came. Somewhere in the background Arsenal fans cheered for something that wasn't a goal. I jotted down some more notes. But I knew I'd be buzzing about this match for days. Finding that one thing to focus on for an article was going to be near-impossible. It would inevitably be a transcript of the excited clutter of my mind. Me catching some of my disparate thoughts- those flighty little animals -and stapling them by their tails to the page, hoping to mold it into something readable.
We'll see how it goes…