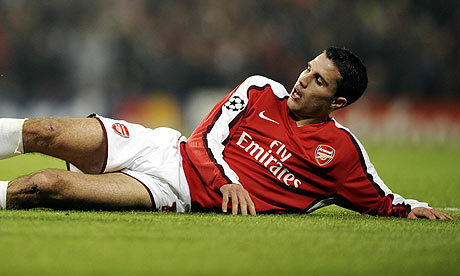 "Yes, I did. Sometimes when you are in the middle of an action and you get a little push and you know there's nothing more to take. Then you are in the right to show in a way to the ref that you are pushed. That's not really diving. It's just showing … 'Come on, he just pushed me, so I can't score now.'
Oh Robin. Is this really the best time to be talking about you exaggerating your falls? Isn't the vilification of Eduardo enough punishment for Arsenal fans to take?  Have you not learnt anything from him?
Is there anyway, under any circumstance, at anytime, where we could condone diving? Van Persie vindicates himself by saying that the foul was deserved since he was impeded and illegally denied a goal, but it isn't really for him to decide whether the foul was deserved or not is it? Thats what referees are paid to do; judge if a foul really is a foul. He claims to be against diving, does he not practise it? Even if its just to show that it was a foul, if he had to ability to stay on his feet but went down anyway, does that not constitute diving?
Sure, we'll give him credit for being honest. But sometimes, honesty isn't the best policy. The media will hound him. The players and the fans will lose respect for him. The most dangerous thing about diving is that if it works the first time, you'll be tempted to do it again. And again. And again. Van Persie has come out and admitted it before the public catches him, but does it means that when we do catch him, that statement and his honesty will fully justify his actions?