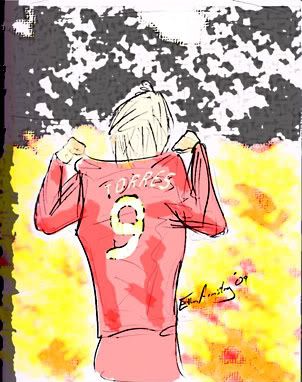 Going into the West Ham match I asked for a brace (minimum) from Fernando Torres and boy did he deliver. This calls for some pondifercating on The Football Genius.
Well, maybe Torres isn't at Genius Status yet. But of all the players playing in England he's got to be among the biggest contenders.
But before Saturday, Torres had not been himself. He's shown the El Nino spark here and there but overall that role one expects of him of being the game-changing-heart-stopping-how-the-eff-did-he-just-do-that-without-making-a-deal-with-the-devil miracle man has been remiss since the Confederations Cup. In his first few league appearances he smelled of a pouting star who finds his situation not to his liking.
Too often, Torres has succumbed to flopping over and holding his hands up in the air in the direction of the ref as if to say "C'mon, now: give me something for all this gravitational pull and defensive contact." Not to say defenders aren't rough on him: they are. And one thing that might be working against Torres is Rafa doesn't have the intrinsic Premier League clout to convince the refs to give Torres special consideration à la Sir Alex à la The CRonaldo Era (and I hope it stays that way – off-the-pitch bitching and moaning o'er one's "persecuted" attacker should be waved off quicker than most Craig Bellamy pleas against offside calls.) The problem is Torres needs to get on with it. Once the ref shrugs him off, it's time to dive back into the game and find the next opportunity on goal. Pouting never leads to scoring. Not in football anyway.
But as Torres' outing against West Ham proved – and as my ever quotable mate Jamie proudly noted in our pub – "Torres f*cking gives as good as he gets? Eh?"
At first the Guinness-laden me who missed the play in question couldn't figure out if Jamie meant this as a criticism (that he gives in – diving, feigning) or as a compliment (that he stays firm and knocks the defenders as thoroughly as they knock him). A replay quickly showed Jamie meant the latter.
The flopping, sulking striker who had made so many Liverpool supporters groan in weeks past had finally turned back into that pillar of strength who puts his back into his work and sticks to business. So I forgive Torres for his earlier childishness. The genius can be hard to fathom at times: Marlon Brando, Vincent van Gogh, Charles Mingus. Such artists were known for being unpredictable, but because of the fineness of their best work, their oddness sinks into the sea of the bigger picture.
And when they were switched on: my God – the work was beautiful!
And so, approaching the twenty-minute mark, Torres switched on: he dug in, skirted the box and pillaged away. His toying with defenders is characteristic, but on this occasion I fully expected him – as he was covered to the extremity of the pitch with seemingly nowhere to go – to set up another player. I did not think he was going for goal. It was one of those runs that screams: "Find Stevie – find Dirk – find Yossi" – one of them had to be steaming into the box with space to shoot and a better angle than Torres had found.
Thankfully Torres wasn't thinking like me. His vision, his intuition, his spark comes from someplace deep and inexplicable. And that place was feeding his brain as he pushed in and took the shot that few players would have discovered. And – damn it – he scored. Genius.
Later, he'd head home the winner off a cross from a revitalized Ryan Babel. Proving, once again, Torres will be there to win the game when Liverpool are struggling. The first half was a miserable performance. The second half the team showed the grit to step up the pressure and hammer[sic] away until they could find a break in the wall. But it was the Torres' spark that made the difference.
In truth, I don't know if Torres is a genius or can be a genius or will be a genius. But moments like that first goal – that kind of run only the very few of the best would ever attempt nevermind make work – are transcendental. And that's the stuff of genius. At the very minimum he's a brilliant artist, laying heartbreaking brush strokes across the canvas of the pitch.
I wanted at least two goals as a sign he was back and he got them. If he can take the momentum from that brace into the next few matches (and if his teammates can hold down the fort behind him), there will be plenty more transcendental moments to come in the very near future.
My hands are clasped in readiness.