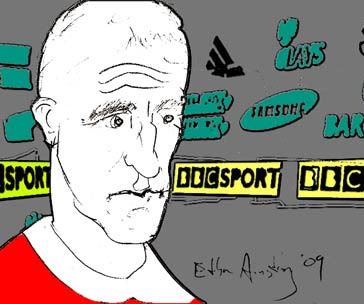 Before the season started, I knew little about this Burnley side. I like to see former top-flight stalwarts come up and Burnley – one of the orginal 12 sides in the Football League – haven't been up in 33 years. But apart from that, I knew no reason why they shouldn't be on track to follow Derby County and West Bromwich Albion straight back down.
But they've since beaten Manchester United and Everton, and though they are coming off back-to-back losses against Chelsea and Liverpool, Burnley keep showing the spirit and grit of last year's Hull City and 2006/07's Reading. I can't help but take notice.
It is tempting for a side like Burnley to come up and play the anti-football many of us have come to dread. Shove everybody back and hope for a chance to break one or two players on an occasional counter attack. Especially when they face the stronger, faster sides in the top flight. The result is mired, ugly football. Attacks are crowded out as the underdog prays for a draw or a miracle chance on goal.
Perhaps the forward-thinking approaches of sides like Hull and now Burnley mean the up-and-coming clubs will learn the hard lesson from the fruitless campaigns of Watford, Derby and every other season's Birmingham. It is better to risk defeat and chase the win than to play for the draw.
I love that Burnley are willing to risk themselves. They attack right out of the gate. This is a gamble for a club of their size, but against Everton and United they have shown it can pay off. I hope that Owen Coyle sees his approach was the right one against Liverpool and Chelsea despite having no points to show for his efforts.
I missed the Chelsea match, but I understand Burnley had some good early chances. Against Liverpool, though, Burnley stunned me with their opening attacks.
One comes to a new season with prejudices, and with no concrete evidince on the matter, I assumed Burnley would be one of those anti-football sides that have given my beloved Liverpool so much trouble in recent campaigns. Against such sides, the first goal is all-important. For the underdog it is the insurance policy. They can crawl back into their regressive shell and maybe hope for another breakaway, but they've at least got a leg up. For the big dog the first goal can crack a match wide open. The goal forces the anti-football side to play positive football. They can no longer hope for a draw and must push men forward, opening up more space for their opponent to exploit.
But against Burnley last weekend, there was nothing for Liverpool to crack open with that first goal. Benayoun's first goal was great and much needed, but it did not change how Burnley played: Burnley were already attacking the Reds. Then the second goal came. I still couldn't relax. Liverpool had a solid lead and had found their form and it should have seemed a safe distance, but Burnley were playing so well and were so fearless, all it would take was one goal from the visitors and I'd be a ball of nerves and chewed fingernails once again.
Finally, after Liverpool's third goal, I could take a deep breath and enjoy the win. But I've got to give credit to Burnley. Even though they lost to the Reds, as they lost to Chelsea, Coyle took the right approach. Attack. Fight for those points. Gamble for full glory because while there will be losses, the wins will come and your side will be much better off than perpetually playing for a point.
Even in loss, Coyle's players are honing their approach. Pushing forward and attacking gives them the confidence and drive to know they are fighting for their lives from the start. It is a long season, and who knows if Burnley can sustain their momentum. But Hull's early success last season became an important cushion when they hit a rut later on. They still stayed up. For Burnley this early form is a similar chance at giving themselves a points buffer for the long season ahead.
Burnley have won both their home matches against big opponents. I look forward to seeing what they can do when they host Sunderland this weekend. It's still early, but I've got my eye on Burnley. I hope they keep attacking and I hope it pays off.
If more promoted sides take this approach, we are in for some exciting League seasons. There is less to take for granted when the underdogs are willing to run at a match with vigor and resolve. With sides like Burnley and Hull proving they can topple the giants, we enter each weekend knowing the possibilities are limitless. It makes for some good football, my friends.