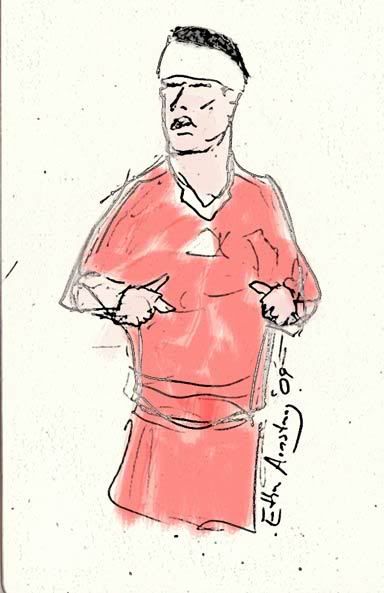 While I tell myself it's a long season and one result cannot shape the year, I can't help but look to the opening fixture for a sign of what's to come. I mean, I've been waiting all summer for this! Let me know with some great football that this is going to be a great season!
2008/09 was Liverpool's best season in ages but it was full of frustration as well. The opening match against Sunderland set the tone, in a way. It was a painful, goalless match until the 83rd minute, a prelude to a season that would be full of Red attacks against the walls of ten-men-behind-the-ball defenses. Then Torres scored the only goal. His deft turn and his shot from distance felt like a miracle to behold. Perhaps he was letting us know 2008/09 would be full of shocking late-winners. Our patience with Liverpool through the dry spells would be rewarded again and again. Maybe he wanted that surprising burst of joy to hint to us that Liverpool would beat Chelsea, United and Real Madrid twice each before the year was over. He was preparing us early so we wouldn't die of shock when Ryan Babel fired in the exploding winner on September 13th.
Coming into the match yesterday, I knew all the other top four clubs had secured maximum points. Chelsea overcame a determined Hull with Didier Drogba's last gasp goal (further solidifying his status as my new arch-villain, filling Ronaldo's game-changing boots). Arsenal demolished Everton in a all-out-goal-scoring deluge. United kept a clean sheet against Birmingham with Rooney's goal proving enough for the win.
I felt we deserved full points as well. It would be a sign we can endure the loss of Xabi Alonso. It would show us our injury-ridden defense has the pluck to keep it together from the start.
But Spurs had given Liverpool troubles last season. They went from being the worst team in the league to being Harry Redknapp's bundle of promise. They beat us 2-1 in London and broke our 17-match unbeaten streak. Shortly thereafter they knocked us out of the Carling Cup.
Spurs, who always seemed to buy strikers and never defenders, should be a guaranteed win in my mind. Only problem is: they finally bought a defender. Bassong. He's good. And Ledley King was fit and starting. Suddenly the Spurs' defense didn't seem so porous.
I told myself it didn't matter. This was a new season. Rafa knows what he is doing. Our players would be determined to stamp their mark on the year from the first day. We would win this.
I went to the pub full of bravado. I was ready to sing and jump and scream for each of our goals and I was sure we'd score three. I told everybody Robbie Keane would score a "you should have kept me, Rafa" goal. Then Torres, Kuyt and Benayoun would each find the back of the net.
Our pub on opening day is like going back to school after summer break. You ended the previous year promising everybody you'd still all hang out even though the matches aren't on. You exchange numbers. Promise to catch some international friendlies and World Cup qualifiers. Then you spend the summer not calling each other.
Now the games are back on. The pub is full. Its all hugs and handshakes and "How was your summer?" The excitement of seeing everybody together again adds to the feeling that it's going to be a good result.
I mingled. I commiserated. I fretted.
There were lots of new faces which was great. Games against United, Chelsea and Arsenal were always standing room only. But we longed to pack the place for the other matches as well. More newcomers on opening day gave us hope toward this end. Also, my mother had come down from New Hampshire to watch the match with me. She had been to the pub before, but that was a quiet late-season match against West Ham. She had yet to experience the packed scene on opening day. I warned her she was bound to see sides of me she hadn't seen before. The bitter desolation if we gave up a goal. The insane celebration if we scored one.
"You'll keep your clothes on, right?" she asked.
I went to the bar and ordered her a beer. "Can I have a shandy, please?"
"God," said Pete, an English friend. "I haven't heard those words since I was sixteen! What's next a snakebite?"
"It's for my mother," I explained.
"Riiiiight," said Pete.
We found our places and the match kicked off. We were buoyed by Steven Gerrard's presence. He'd been an injury worry all week.
15 minutes in saw Jamie Carragher and Martin Skrtel go for the same ball. Carra's head slammed into Skrtel's jaw and they both fell to the ground. Oh sh*t, I said. Forgetting my mother was sitting next to me and that it was Sunday.
My biggest concern coming into the new season was the fitness of our centre-backs. Agger was having back problems. Skrtel was just coming off injury and Carra had come out of the Atletico match with a knock. Now Skrtel and Carra had taken each other down. Carra's head was bleeding. Skrtel was holding his jaw. If I'd come looking for signs of what the season was to hold, I was in big trouble.
They both stayed in the match. Skrtel probably said to the physio, "It's only my jaw. What do I need it for?" So he won't be eating attackers alive as much this match. Carra came back on with a World War II military surplus head wrap.
A half hour in, Pepe Reina made an insane save off Robbie Keane's shot. He did it again 34 minutes later. Keane was not to get his goal (although his attempts in the match were far better than anything I'd see him try in a red shirt last season). The place went wild both times. "Does the keeper have his own song," asked my mother. I shook my head, trying to think of one.
Then the roof fell in.
Just as I was telling myself, we just need to get to halftime and Rafa gives a riviting Istanbul-like halftime speech and we'll be fine, Assou-Ekotto, having packed his boots with TNT, blasts the ball from distance. Spurs were up.
I kept up my bravado during the break. The goal will wake us up, I said. We're still going to score three.
On 55 minutes my hope was restored when a blistering, twisting run from Glen Johnson ended in a clear foul when Gomes took him down. Gerrard stepped up to take the penalty. We were all on our feet. Gerrard smacked it into the back of the net. I kissed my mother on the forehead as if to say, excuse me while I turn into a chimpanzee for a few minutes and I ran across the room to jump into a throng of friends who were jumping and screaming and singing:
Steve Gerrard Gerrard! He's big and he's f*cking hard!
This was it. We'd be fine. The comeback was in progress.
But then on 59 minutes, Bassong headed home a perfect Modric free-kick. We were down again. Because our set piece defending is about as convincing as George W Bush insisting he wrote all his own speeches.
The non-sporting highlight of the day was an exchange between my friend Scott and I after Torres took one of Gomes's boots in the face and got up with a visible bruise.
Me: (shouting across the room) He's still pretty!
Scott: (shouting back) He's prettier than your mum!
Me: Shut your mouth! My mum's right here!
That's when Pete turns to Scott: "He's serious. That's his mother."
Scott turns as red as the home kit, looks around as the place grows quiet, then dashes across the room to give my mother a big hug. "I didn't mean it!" he said. "You're dead gorgeous!"
Unfortunately, there wasn't anything nearly as entertaining left for us in the match.
The ref waived off a penalty after Voronin was taken down in the box and another after the ball struck Ekotto's arm. Then he sent off Sammy Lee from the bench who obviously had some thoughts on those calls.
The final whistle blew and my heart sunk. 90 minutes gone and not a point to show for it.
It was our defense, I thought. They've been struggling with injuries, they've got no chemistry right now. Johnson looked good when he got forward, but didn't feel confident in going forward often enough because Skrtel and Carra were shaken up (Skrtel eventually came off, still holding his jaw). Then the midfield: Mash didn't impose himself the way his usually does and while Lucas looks stronger than last season, he needs more of a psychic ball if he's to truly fill in for Xabi (he's got three or four more weeks to audition until Aquilani enters the mix). Gerrard didn't look himself except for a few great bursts and Torres seemed to stutter in instances when he normally turns his man and carves open an acre of space for himself.
I can easily get hung up on this result. Stick with my feeling that we've set the tone for the season. But what's the point of supporting your team if you let a little disaster at White Hart Lane get you down from the start? We just need to demolish Stoke midweek and then slap Villa around next Monday and I'll feel all better.
Coming out of the first weekend one might think Arsenal will take the league and Liverpool will flounder. But I don't really believe those things. A couple goals from Torres and a clean sheet or two for Reina (he was unbelievable yesterday!) and I'll bring back the bravado.
And next week, Scott will take a look around the room before he spouts his next mother joke. His words to me after the match: "What are the odds of saying something about someone's mum and having her actually be there?"
Pretty slim, Scott. We couldn't have scripted that one better.