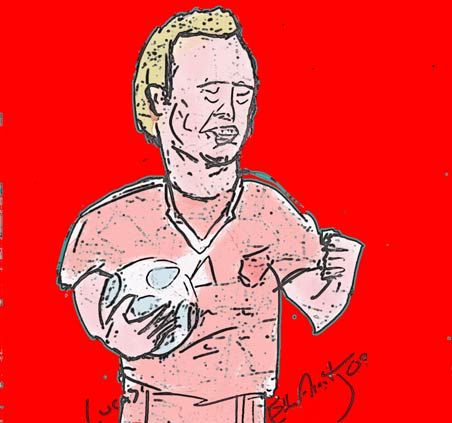 Saturday, 8th Aug 2009
It was the last of the pre-season friendlies. The last chance to gauge how our side looks going into the season proper. We gathered outside the pub in our red kits, awaiting the sound of the deadbolt sliding out of place. All season the sound of that door unlocking will be like Pavlov's bell to Boston's Liverpool supporters, a signal it is time to pour inside, choose the best vantage point and wait for the friend with the iPhone to announce the starting line-up.
Saturday was a beautiful New England day. Not a cloud in the sky. A warm breeze licked our ears. The rains that had hounded us all summer were long gone. Probably bought by Real Madrid for £80m. Passers-by gave us odd looks: Are these dudes really waiting outside a bar at ten in the morning? On a perfect day? Really? No, don't organize the intervention: we're simply football supporters.
Liverpool would take to the pitch against Anfield with something pretty close to their best starting eleven. We wouldn't see Riera, Agger or Skrtel (all of us hoping their fitness woes would be short-lived), but there'd be some sense of what we will field in next week's match at Spurs.
I was really hoping for a good performance from Lucas Leiva.
If you'd told me in late May, you'd heard Lucas was about to depart Liverpool, I would have had no complaints. The kid has not lived up to expectation since his arrival from  Gremio in the summer of 2007, but he's done enough I'm sure we could get a decent price for him. Or at least put him out on loan and hope we get a more rounded player back in a year. But now with Xabi Alonso gone and injured newcomer Alberto Aquilani not expected to start for a while, we need Lucas. We need him to blossom into his full Brazilian being. Now. He needs to take his game up a level and fill that gaping abyss that Xabi left behind like a hole in the chest. Otherwise Gerrard will play too deep and Torres won't have enough support and we'll never break down those ten-men-behind the ball sides that kept us from the league title last season.
So we waited outside, chatting about Lucas and Aquilani and title hopes and so on until the door opened.
The pre-season doesn't pull out as many supporters. Saturday, nine of us gathered at the bar and ordered pints and breakfast. The bartender smiled at us and welcomed us back, but you could tell she really wanted a couple more hours in bed. I myself downed half a cup of coffee before digging into my lager.
The opening minutes looked promising enough. Dirk Kuyt took a blistering shot on target a dozen minutes in. Soon after though, Jamie Carragher was down after a knock. He was still moving and stretching, looked like he might be alright, but in the end he wouldn't return to the pitch. Atletico's wonderboy Sergio Aguero took advantage of our defensive thinness and scored a beautiful header off Antonio Lopez's service. "Buy him!" yelled my co-supporters.
San Jose came on for Carra, joining Ayala in the back. I'd seen very little of these two in action. Never mind together. Not too comforting with the league opener a week away.
At least Lucas looked good. One hopeful sign is his new size. He looks bigger… well… bigger for Lucas. He told us he was going to bulk up and he kept his promise. Last season, a hearty sneeze was enough to push him off the ball. Now he looks ready to stand firm. His movement was solid as well. Good turns, good thinking. His final ball often left something to be desired, but to be fair, everbody's final ball left something to be desired.
On 32 minutes, Forlan was in on goal when a miscue between Glen Johnson and San Jose gave the former Manchester United man enough space to blast a shot into the far side of the net. Painful.
Both conceded goals came from poor organization in the back. If Carra had still been in, we wouldn't have given up two. Maybe one, with Aguero looking ready to take on any starting eleven all on his own, but never two. And here we were, worrying over Carra's fitness. Skrtel. Agger. Carra. Would we start the season without a single fit established centre-back?
During a league match, our corner of the pub is usually too wound up for much talk. We curse, we moan, we cheer. We make asides but we don't really form any fluid conversation until half-time. But since it was only a friendly we chatted about transfers and fitness and everything else to do with the oncoming season. Buzzing over Aguero, we wondered aloud: could he fit at Anfield? Would he be worth it? Could we get him?
"We don't need another striker," declared my friend Tetteh. "Anybody who's good enough isn't going to sit on the bench waiting for Torres to get hurt anyway."
Moments later Torres rattled a shot off the bar.
Tetteh (laughing): "F*ck it. Maybe we do need another striker!"
The second half saw some early chances and then on 67 minutes Torres carved his around three defenders but couldn't get the goal.
Finally, on 82 minutes, Gerrard found Lucas with a prescient through-ball. The Brazilian knocked it home.
There wouldn't be an equalizer but with Lucas getting a goal for all his effort, I felt better about next Sunday.
When Lucas first came to Anfield, he had to live in the shadows of Gerrard, Alonso and Mascherano. He was like a bungalow built at the foot of the Egyptian pyramids. Now Gerrard has moved forward to form a partnership with Torres, and Alonso has shipped off to Real Madrid. This is Lucas's chance. Maybe what Lucas needed all along (apart from a summer lifting weights and eating pies) was a shot at some consistent starts. If Aquilani is out for "one month or so" (Rafa's words), Lucas will have his chance to establish himself and come into his own. If he plays like he did Saturday (only with more connections on that final pass), he could prove to be the man for the job.
When Liverpool took on Manchester United at Old Trafford last March, they were without Xabi Alonso. He'd been our most influential player all season. But for that all-important match, he was out with injury. Lucas started and played out of his skin. Where had this kid been all season? We needed him. He came up big.
This is the same. Xabi's gone. Only this time for good. We need Lucas to come up big. If he can manage this, it won't matter if Aquilani needs time off for fitness. It won't matter that our Spanish midfield visionary has gone back to his peninsula. Lucas can do it. He just has to dig in and unlock the the quality that's been simmering there all along. His play has been a whisper. It's time for him to scream.