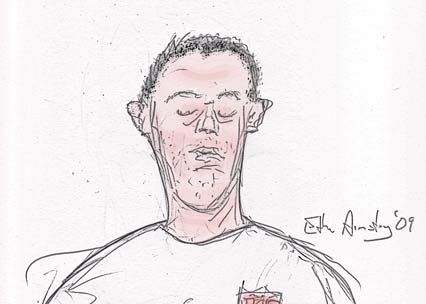 Q: Why did he mention Dempsey and Howard in the title?
A: It's a sneaky writer's trick. He name-dropped Americans who play in the Premier League to justify writing about USA v Brazil for EPLTalk.com.
Q: Is that why he posted that hastily sketched drawing of Dempsey's mug as well?

A: Yes indeed.
Is there such a thing as a great loss in football? As a Liverpool supporter, I am told I enjoyed two great draws this past season. 4-4 against Chelsea and 4-4 against Arsenal. I was too devastated by Liverpool being knocked out of the Champions League and sliding out of the title race to notice I enjoyed anything. Out of context, I can appreciate the matches' greatness. The bombardment of goals. The tension and drama. I get it. But in light of the repercussions of a cup exit and key points dropped, these matches leave a bitter, clinging residue. It still stings to think about them.
Yet, as an American North American USAian Statesman, ahem… Yet, as a Yank, I can say I enjoyed the USA's great loss to Brazil yesterday.
The first half was a dream. Jonathan Spector's service was brilliant but Dempsey's shot looked awkward. It bounced optimistically toward goal. I was positive Julio César had it covered. When it bounced just past his fingertips, I couldn't believe it. USA were one-nil up on Brazil. I still felt sure we'd lose 4-1. But I'd said before the match I'd feel better losing 4-1 than another 3-0. And now we'd scored first. Beautiful.
The US continued with convincing possession and driving play.  And while Brazil created some chances in the first half, Tim Howard continually read the attacks perfectly. He snatched, scooped and punched the danger away each time it knocked on his door.
Then there were two USA players running down the Brazilian defense with loads of space. Almost a mirror image of Brazil's charge off the failed US corner kick in the previous match. Charlie Davies had the ball out wide and Landon Donovan made the perfect run. Davies found him with a sharp pass past two defenders and Donovan turned his man before launching the ball into the far corner. Was this the same team that bumbled and stuttered against Brazil just ten days ago? Had the USA and Brazil players swapped shirts before the match instead of after? Would Real Madrid be making a €50m bid on Donovan? I considered dumping a glass of cold water over myself just to make sure I was awake.
If you'd told me before the match we were going to finish the half two nil up on Brazil, I would have hurled rotting vegetables at your head to teach you not to say such ridiculous things. But the whistle blew. And 2-0 was the score. I couldn't relax though. If it had been 8-0 maybe I could have taken a deep breath and relaxed. Maybe. But I was still too elated for words.
A minute into the first half, and Luis Fabiano was there to guide me back down to earth with a stunner. His back to goal and defender Jay DeMerit, he spun toward the target, slinging the ball between DeMerit's legs and past Tim Howard. DeMerit gave him too much room and the shot came off before Howard could process the ball's movement. The keeper lunged but it was no use.
At this point, I thought the US could still prevail. Brazil had gotten one off, but if our boys kept their heads they could create another like the Dempsey or Donovan goal and we could win it 3-1.
But Fabiano's goal had thrown our side off balance and Brazil would take advantage with blistering resolve.
Against Spain, the US were able to congest the box. There was plenty of room for Spain on each wing, but no one open in the box no matter how good the service. Against Brazil, this same space on the wing was an open invitation to an onslought. The Brazilians would just keep coming. Wave upon wave of attack. Another goal from Fabiano and one from Lúcio would smother my hopes. Kaká should have been credited with a goal as well, but Tim Howard got the ball out before the officials could see it had crossed the line.
Brazil's goals stung my heart, but when the final whistle blew I wasn't devastated. We'd had no business getting past the group stage. We'd had no business beating Spain. But there we were in the final against Brazil. We lost by a mere goal.
After the miserable group stage loss to Brazil which was plagued by horrible US passing and embarrassing concessions, all I wanted from yesterday was for the US to play well. They could lose to Brazil as long as it wasn't a dismal display. The biggest problem the US had in the previous encounter was they let Brazil's reputation overwhelm them. They played infinitely better against Spain, The Best Team in the World™. But Spain haven't been The Best Team in the World™ long enough for the US to let it shake their psychology. They kept their heads and managed an upset.
Brazil have been Brazil for decades. It's not just that they are great players, but their legend is a long-standing institution which looms large. The idea of Brazil put the US on the back foot even before the opening whistle of the group stage match. That the US were able to overcome this psychological hurdle yesterday and play out of their skin and go two nil up is massive. An important leap before South Africa 2010.
I didn't expect us to win the final. But then I didn't expect us to escape the group stage and I certainly didn't expect us to oust Spain. So yesterday I was open to the boys flipping my reality on its head one last time. Which they did, if only in the first half.
Thanks for giving me that dream, boys. The Brazilian comeback may have been inevitable. But the great fight of the first half was pure joy and a big step for the future of team USA.