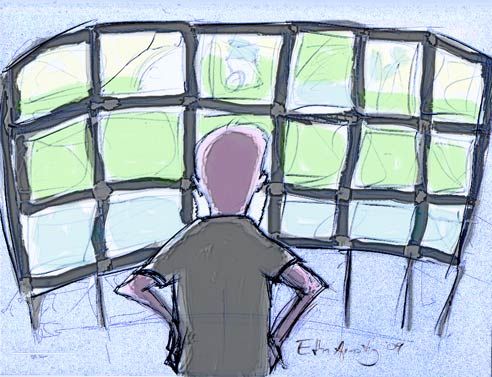 Yesterday, I considered the question of the name of our sport, football vs soccer. Today I jump on another question regarding the purity of the beautiful game: should we implement live video review? Please use the comment section to weigh in on this issue.

If I ever got dragged to a birthday party for FIFA President Sepp Blatter and was forced to stand up and say something nice about the guest of honor, the best I could probably muster is:
He's got the coolest name in football after Titi Camara.
That's wracking my brain under pressure to come up with a pleasantry for world football's most powerfully controversial figure.
From pushing his absurd "home grown" rule where sides would need to field 6 domestic players in a starting line-up to suggesting that women's football would be more popular if the players wore tighter shorts… From his labeling of Cristiano Ronaldo as "a slave" when Manchester United held onto him last summer to allegations that his 1998 election was rigged… Blatter will forever be known for doing and saying things that are outrageous and absurd.
But lo and behold, for once, he's done something reasonable, something I actually agree with. Maybe I can say something nice at that party after all.
After last week's Confederations Cup controversy over Howard Webb's video-influenced penalty decision (described in more detail here by EPL Talk's Rory Tevlin), Blatter announced that pitchside television monitors will be banned at international matches. Or at least turned so the fourth official cannot see them.
Banned, turned, switched over to Gordon Ramsay's F Word: it doesn't particularly matter. The important thing is FIFA avoid live video review in football at all costs.
There are those who say: But, look! It worked!
Supposedly, the fourth official saw the handball on the television monitor. He told Howard Webb ab0ut it. Webb had already given the corner kick, but now changed the call to penalty kick. Brazil converted and won it 4-3. So the call had been wrong. Webb corrected himself. Scant time was lost.
The main problem with video review in other sports is the stoppage it causes in play. Professional American football may be the worst perpetrator. The stoppage for video review is one of the many tools the NFL uses to keep a hold of the viewer for a good four hours. The officials will stop play to review close calls. And the coaches are each given a flag to toss on the pitch if they want to ask for a review. Mind-boggling considering the sport is an offspring of concise, 80-minute Rugby.
Don't take this (or my previous article) as an attack on American football. It's a wonderful sport. But the action comes in short bursts between time-outs, team changes and a steady helping of commercial breaks. If futbal football and Rugby football are great feasts, than American football is snacking between meals.
And now, baseball has sneaked video review into the mix! Only for limited use, they say. But it already has the officials taking time from game play to watch a video. "Sometimes it takes longer for the manager to get kicked out of the game," said Dioner Navarro, glowing over the new procedure after catching during the first play that utilized video replay. Yes, Dioner, but at least a manager ejection is part of the action of a baseball game. The spectators have something thrilling to watch. Have you really stopped the game? I'm certainly not suggesting FIFA do away with ejections!
My fear is, with video replay, the MLB have opened the door for further stoppage. And there are those who would have FIFA do the same.
The argument, for now, is that Webb's "use" of video review didn't cause any stoppage because the monitor near the fourth official was a live feed. The use of it to overturn a decision was rapid and correct. But once we open that avenue, we are at risk for taking the concept to a debilitating extreme. What happens when we stumble across calls that are not so easy to review in haste. Soon we are stopping the match to consider the replay. In a game full of nuance, it will be tempting to use replay more frequently than we intend. Stoppage time piles up and our precious 90 minute time limit is obliterated. Or what happens when we decide the fourth official needs more information to make this work. We give him multiple monitors to cover all the off-the-ball action. Is he watching the television or the match? He'll be removed from procedings. He may as well watch from home with his headset on.
The thing is we don't need live video review. Officiating has always been and will always be fallible because the referees are human. But as long as they are equally human in both directions, the game is fair enough. The missed calls are something we all have to deal with. And no amount of technology will ever remove all the fallibility from officiating.
I use the term live video review in this piece because I am not opposed to post-match video review. Reversing incorrect bookings, discovering serial mistakes, or post-match punishment of players for bad tackles and dives could all be useful. To find the problems and correct them off the pitch won't take from match play and could help officials learn from past mistakes while discouraging diving and dangerous fouls.
Live video review, though, is a road FIFA should never go down. Just play the game. Other sports should look to football, Rugby and any other sport that works hard to keep things moving. Video replay is an ill not a boon. FIFA must keep the door shut on it.
So for now, Mr Blatter, I applaud you, quietly, for turning the television around. A minor good decision that will surely, in the long view, be drowned in your sea of controversy. But at least I'll have something nice to say on your birthday.
Tomorrow: do we expect too much from our International football?