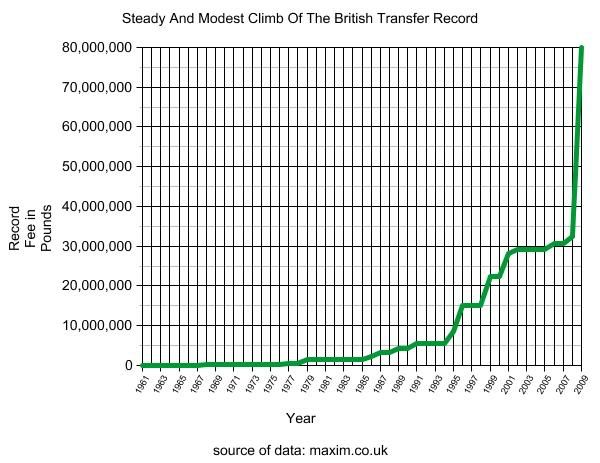 Just when you think you've seen it all, Torino have shelled out £100,000 to lure Dennis Law from Manchester City. Yes, it's 1961 and the record transfer fee paid to or by an English club has broken the hundred thousand mark.
Shocking.
The previous record was £65,000 when John Charles moved from Leeds to Juventus in 1957.
Law will move back in a year for a fee of £115,000 to play for City's rival in-town club, Manchester United. But, it will take until 1970 for the record to reach the £200,000 mark when Martin Peters moves from West Ham to Spurs. And seven years after that, it's half a million pounds from Hamburg to pry Kevin Keegan away from Liverpool.
By 1979, the million pound mark will be obliterated with Trevor Francis's £1,180,000 move from Birmingham to Nottingham Forest. Thankfully, it will take until 1986 for the record to break the two-mil mark when Mark Hughes leaves Manchester United for Barcelona for £2.3 million. But then we'll only wait one more year for Ian Rush's move from Liverpool to Juve to raise the bar to £3.2 million. I know. It's insane.
Pause. Drink of water. Gulp.
David Platt's move from Aston Villa in 1991 to Bari will hoist the record up to £5.5 million. A fee which will also see Paul Gascoigne move from Spurs to Lazio the following year.
Now comes the Premier League era. Things are about to get crazy.
Want yourself an Andy Cole? Only £7 million at 1995 prices.
And then it's time for Alan Shearer to move from Blackburn to Newcastle. £15 million, my friends. 1996.
Nicolas Anelka from Arsenal to Real Madrid: £22.5 million, 1999.
Rio Ferdinand will change Uniteds: Leeds to Manchester for £29.1 million, 2002.
Where does it end?
Now, look at the sardonically titled graph above.
Everybody up until 1979 looks like they cost nothing. Through the long lens of time, it seems like Keegan, Peters, Law, etc went for pennies. Even the shock of Alan Shearer costing more than 10 million now seems like such a bargain basement price in light of Robinho's £32.5 move from Real to Manchester City last summer.
Things looked really scary when City were rumored to be offering as much as £130m to try and lure Kaka away from AC Milan. But the move never happened and it looked like the 30-40m mark would hold steady.
But all it would take would be a specific series of scenarios for the stars to align and some ridiculous fee will come along and totally eclipse everything that's happened so far.
Like, say a Spanish superclub gets all frustrated because their big league rivals go on a tear and snatch up the triple and are anointed the Best Club In The World by gushing pundits and supporters everywhere. Though they've set the standard for other outrageously rich clubs,  spending millions over the years on Zidanes and Figos and Beckhams and van Nistelrooys, they've hit a massive rut. Unacceptable.
Say right around that time, one of the biggest stars in the game, who'd been linked with a big money move to the same Spanish superclub the summer before, who's clearly been itching for a move as he's won just about everything possible with his own English superclub as well as the top individual awards… well, say he's had just about enough of the dreary Mancunian weather and longs for the Iberian climate of his youth. His club losing the Champions League to a Spanish side might just be the hair that breaks the winger's back.
But he's so damn good, his current superclub sure don't want to give him up.
What would it take to scoop this superstar up? About £80 million?
That's a ridiculous price. Even by recent standards, a jump that high in the valuation of any one player is unthinkable.
I don't even want to imagine that eventuallity.
I'm still getting over Dennis Law's whopping transfer fees.