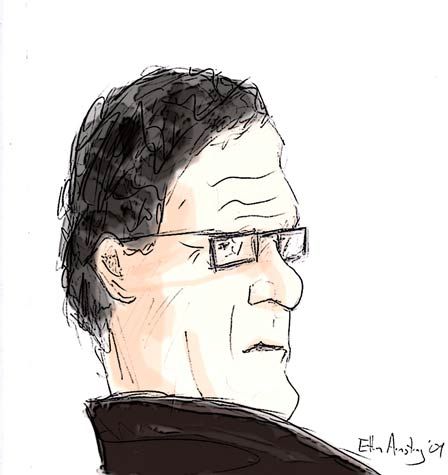 "Capello was exactly what we needed!" —Frank Lampard
"He is one of those managers in that handful around the world who are the best!" —Steven Gerrard
"He's given the players confidence and the team a huge amount of respect!" —David Beckham
"Who knew?" —Steve McClaren
Okay, so I made up that last one. And I may have injected some exclamation points just in case anybody wants to  commission me to design the film poster for "Gafferissimo: The Fabio Capello Story." But the fact remains: England's top dogs are raving to no end about their current manager.

Now, of course the England players are going to sing the praise. They've got to. It's a public relations responsibility, right?  It's the same reason you don't look to your favorite club's homepage for the hard, breaking news. And you don't go to the cigarette manufacturer for health tips on taking care of your lungs. Public relations diplomacy wins out over the hard facts.
But dutiful kudos aside, the Capello effect has been undeniably remarkable. We can believe Stevie, Lamps and Becks because their words ride atop England's persistent, shining results.

With Saturday's victory over Kazakhstan, England have enjoyed six straight wins. They are top of their World Cup qualifying group.They've leapfrogged Argentina in FIFA's world rankings. Not that any of this should be too surprising. In their current form, England should be considered favorites in their group and qualification should theoretically be assured… but the Three Lions failed to make it into last summer's Euro despite seven wins during qualifying…
We cannot take anything for granted.
McClaren had essentially the same talent at his disposal when his England couldn't find the goals in pivotal fixtures against Macedonia and Israel. It is not as though new brilliant players have become English (Almunia pending) since Croatia beat them twice in the run-up to Euro 08. Some injuries and suspensions plagued McClaren's selection pool on his way out the door, but Capello has had his own swarm of nagging injuries with Carrick, James, Jagielka, Downing, Ferdinand and Lennon all among the infirm. And despite such handicaps he's still getting the results.
The major difference is Capello has figured out how to arrange the pieces in the complex puzzle that is the England team. The diatribe for ages has been that Gerrard and Lampard cannot fit into the same lineup. England's best two midfielders played too much alike, said critics. But Capello has found a way to play them together without any tactical redundancies. And he's made room for Gareth Barry as well. With Barry and Lampard in the center of proceedings, Gerrard is allowed a freer attacking role, similar to what he's been enjoying at Liverpool. For England, Gerrard might drift between left and middle, looking for opportunities and keeping defenders guessing, while Barry holds up the ball and Lampard dictates play. This is a generalized description of their chemistry, but the important thing is Capello's established that chemistry with a brilliant midfield trio and the rest of the side can thrive around that strength and quality.
With six qualifying matches in the bag and a seven point lead over Croatia (who they've already beaten once), England are looking strong. And the above comments from the England players underline the confidence and resolve that Capello has injected into the side who were forced to watch Euro 08 from their couches.
When McClaren popped up at a league or cup match to watch the England players in action with their clubs, it seemed a bit routine. Maybe even more so because he wasn't able to use his field studies to mold England into a dominant qualifying force. But when Capello materializes in the stands and casts his stoic gaze on the action, it feels like real plans are cooking behind those thick-rimmed glasses. The man's going to come to the next England practice and use what he's learned to fine-tune the already deadly machine.
He makes England's future more exciting than it has been in a while. If he can keep spirits and form soaring when England come up against tougher sides than Kazakhstan and Andorra, his work with the team could be long and fruitful.

The big dogs can keep raving. As long as the results continue, we'll believe every word.