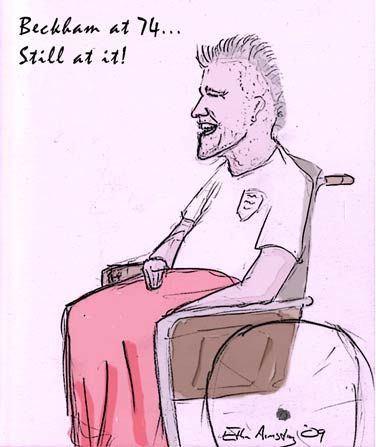 Until Fabio Capello took the wheel at England FC, I had this vision of an England World Cup qualifier 40 years from now:
England are facing Croatia (who else) in a must-win fixture. The Three Lions are playing with ten men, though nobody's been ejected. On 25 minutes, Luca Modric III goes in for an ugly slide tackle. The whistle blows. Play stops. England win the kick.
That's when the medical staff roll him out. The crowd erupts in a fevered cheer. As Croatia compose their wall, the attendants park him three feet from the ball. The crowd becomes silent. The legend rises from his wheelchair, the wind rustling his gray mohawk. Standing, he seems to regain the stature and strength of his youth. He looks at his target, strides to the ball, then scoops it powerfully into the crisp London air. It arcs over the jumping Croatians and sails toward the target. At first it seems like the ball will go over, but at the last minute it dips into the top corner as the keeper flails in vain.
1-0 to England.
An attendant rushes to grab Sir David Beckham's arm as the 74-year-old winger loses his balance. The attendant helps him back to his chair and they wheel him back to the sidelines to wait for the next set play.
I really thought they'd never stop playing Beckham. Even as his endurance faded and younger, faster players grew restless on the bench, no one would push this great talent from the team. For England's Operation Get To The Next World Cup to succeed I thought they'd need to drop David Beckham. Especially after they failed to qualify for the Euro. Yes, he still had gas in his tanks, but it was more important, I thought, to season the next generation than to cling to the old stalwart. Don't play him just to get him to the 100 match landmark, I thought.
England needs its young wingers to have considerable international experience to really make an impact on 2010. But it's been so hard to ween England off Beckham and give the younger men their pitch hours.
I can see why.
Beckham can still airmail that ball right where he wants it, whenever he wants to. A million yards out and he'll tuck his foot into just the right spot and the thing swerves across the pitch and ends up a foot in front of Rooney's head or it bounces off Gerrard's chest or it bounces off the goal post and in. We've seen it for so many years you'd think we wouldn't be impressed any more. But it's a thrilling thing of beauty every time. It's the skill that makes him a legend. Nobody does it better. At least not for England. After seeing it millions of times, it is still amazing to behold. Like the first two Godfather films.
I really didn't think he'd last this long. Whenever he got called up, I'd think: Why are they still playing him so much? He's not going to be going strong at the next World Cup! Get the next generation ready! He wasn't going to have the pace to keep up with the young internationals coming up through the other countries' teams.
But what he misses out on in pace at 34, he makes up for with the fact he doesn't need to get deep down the wing to launch the ball into the danger zone. He can lose his defender in shallower regions of the pitch and curl the service into the attackers with deadly precision.
He's not going to fit into the playbill in every situation. But in Capello, England finally have a manager who sees that and who will give the likes of Walcott, Lennon and Wright-Phillips their chances each to make Beckham's place their own. This is the time to ease him out without discarding him totally. Beckham still has something invaluable to give, but the others have a mark to make and need the time to do so. Capello seems to get this and strives to keep the balance. He won't play Beckham for the sake of playing Beckham as McClaren so often did. He'll follow the needs of the situation.
Still…
Bend it like Walcott? Bend it like Lennon? Bend it like SWP?
These boys have pace and skills and one of them can blossom into England's next legendary wide right man. But the Three Lions will miss that one particular artistry that only David Beckham brings. Bending it like himself.
We'll see a few more of them arc home yet, though. Before his curtain falls.