Derby County Need a Penalty to Survive While Preston Shoot Themselves in Foot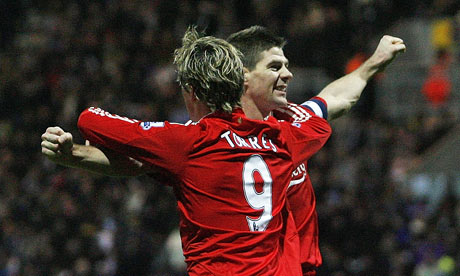 Personally, I think the weekend of the FA Cup Third Round is the most exciting weekend of the English Football campaign. The one weekend where all sixty-four teams are equal and the weekend where it doesn't matter how strong your squad it, it's a matter of wanting it more than your opposition…regardless of the gulf in class.
Viewers of Fox Soccer Channel were fortunate to see two entertaining ties live (depending on your defintion of live as the games were on at least a 2-3 minute delay…typical for a FSC broadcast) in Forest Green Rovers/Derby County and Preston North End v Liverpool.
Those at The New Lawn were probably treated to the most entertaining tie of the round. Forest Green threw everything into getting a 2-0 lead that was gone before halftime. They got it back, for it to only be short lived. But the critical moment on the nearly frozen pitch has to be the Forest Green red card and penalty that Derby County put away. Forest Green were caught out going for the winner and Kris Commons ends up on the breakaway one v one with Terry Burton. Commons unsure of taking the shot ends up not having to worry about it as Darren Jones comes barrelling in from behind.
I won't argue the penalty as Jones made no attempt at playing the ball. However I am unsure if there should have been a red card given. From my vantage point watching the replay, Commons looks to be coming to a stop and is unsure if he should continue on the run to set up another player to score. In my mind, that becomes the moment when 'denying a goal scoring opportunity' ceases. The most I think Jones should have received was a yellow card.
Had Jones been allowed to stay on the park, who knows. Maybe Derby County still win 4-3, but I think with the way Forest Green were playing on the day, we may have just seen a replay at Pride Park.
The other critical decision of the day happened at Deepdale. Liverpool had their chances in the first half and in all honesty should have had this tie put to bed before this. However their lack of fire power up front allowed Preston to stay in this match. The circumstances surrounding Preston North End's disallowed goal are bizarre to say the least. A free kick not cleared and it eventually finds it way to the back of the net, only to have the goal ruled out.
During live play it seemed a perfectly legit goal, that is until you see the love Jon Parkin decides to give Jamie Carragher inside the Liverpool six yard box. At the moment the ball is crossed into Sean St. Ledger, Parkin makes the mistake of holding Jamie Carragher to the ground. The foul has to be given and the goal disallowed. What's more disheartening if you're a Preston fan is Parkin didn't have to hold him down. The ball was crossed in with enough pace that if Parkin had just let him up, I don't think Carragher could have done anything to stop St. Ledger from equalizing.
Had Preston equalized from this moment, I think the game swings into Preston's favor and Liverpool are hanging on for an Anfield replay. However, one moment of stupidity cost Preston the game as their push for a goal late gave Steven Gerrard and Fernando Torres a training ground run up to goal…an opportunity Fernando Torres isn't missing. Then possibly we aren't seeing the celebration above.